Mobile game monetization gives you an exclusive chance to make money through your game. A strategy that opens up game developers to the world of game monetization where they get multiple opportunities to earn.
This guide will take you through mobile game monetization, the dynamics, the concept, and its implications.
What is Mobile Game Monetization?
Mobile game monetization is the technique and strategy that game developers implement and deploy to generate and elevate their game revenue. This strategy and technique encompass extensive factors depending upon the monetization model to generate revenue.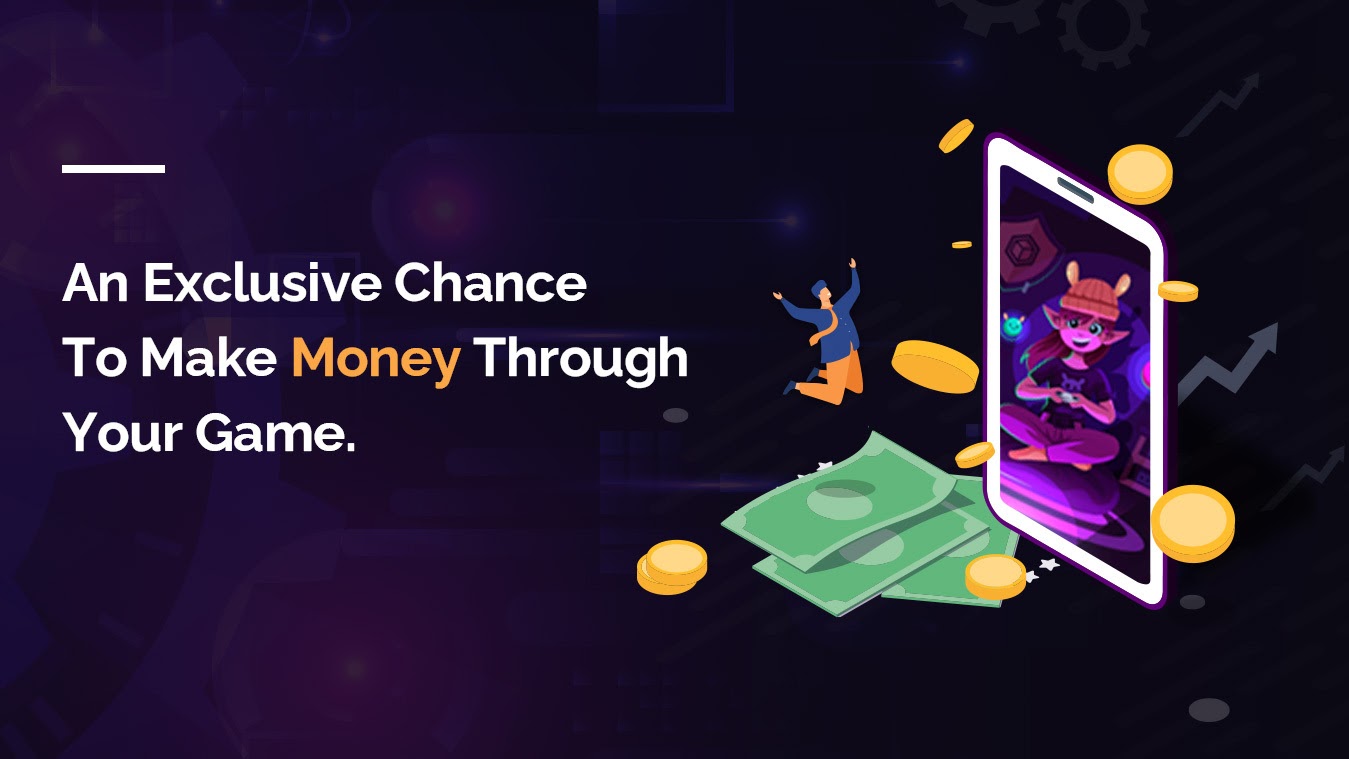 Mobile game developers spend weeks and months developing their pitch-perfect games. The end goal of every game developer is to make money from their game. This is where game monetization plays a vital role.
Why Choose Mobile Game Monetization?
With game monetization tactics and strategies, no matter what game monetization model you develop, there is a significant margin for you to make big in terms of revenue.
According to Statista Leading Android Apps Worldwide Report 2021 in January 2021, Coin Master hit approximately 61.02 million U.S. dollars in global revenue list via Google Play Store alone. This phenomenal growth was due to the right monetization strategies implemented at the right time. Some common monetization models include in-app purchases, in-app ad publishing, subscriptions, and much more.
Adding to this, the global trends show how a major chunk of app developers chose in-app advertising for monetizing their games. The App Annie report: Ad monetization in mobile games the untapped potential suggests that over 89% of top games globally had an advertising platform SDK integrated by December 2019. This significantly increased the total global mobile app revenue in the year 2019.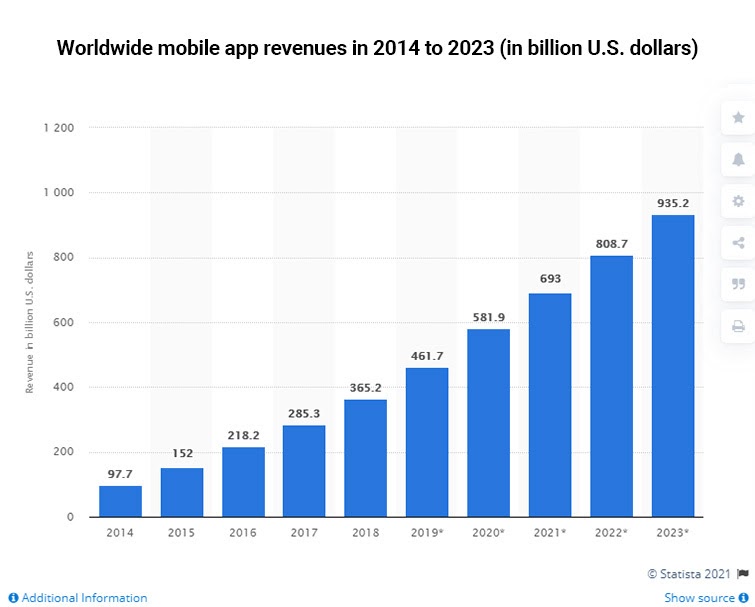 The Statista Total Global Mobile App Revenues Report 2014-2023 predicts how the mobile app revenue may dramatically reach 935.2 billion U.S. Dollars by 2023 elevating from just 461.7 billion U.S. Dollars in 2019.
In recent years mobile game monetization has gained much popularity by benefiting thousands of game developers and game publishers with greater revenues.
How to Plan Game/App Monetization for Better Revenue?
Monetization must be considered at an early stage while planning and developing the game /app. Whatever monetization model you choose to implement, the game/app and its features must complement it.
Games have lots and lots of features and strategies that make it worth the play and one can essentially mix up monetization models to retain users and earn big. It is in your hands whether you want to launch your game as a free game or a paid one, the monetization later depends on this choice.
Paid VS Free Games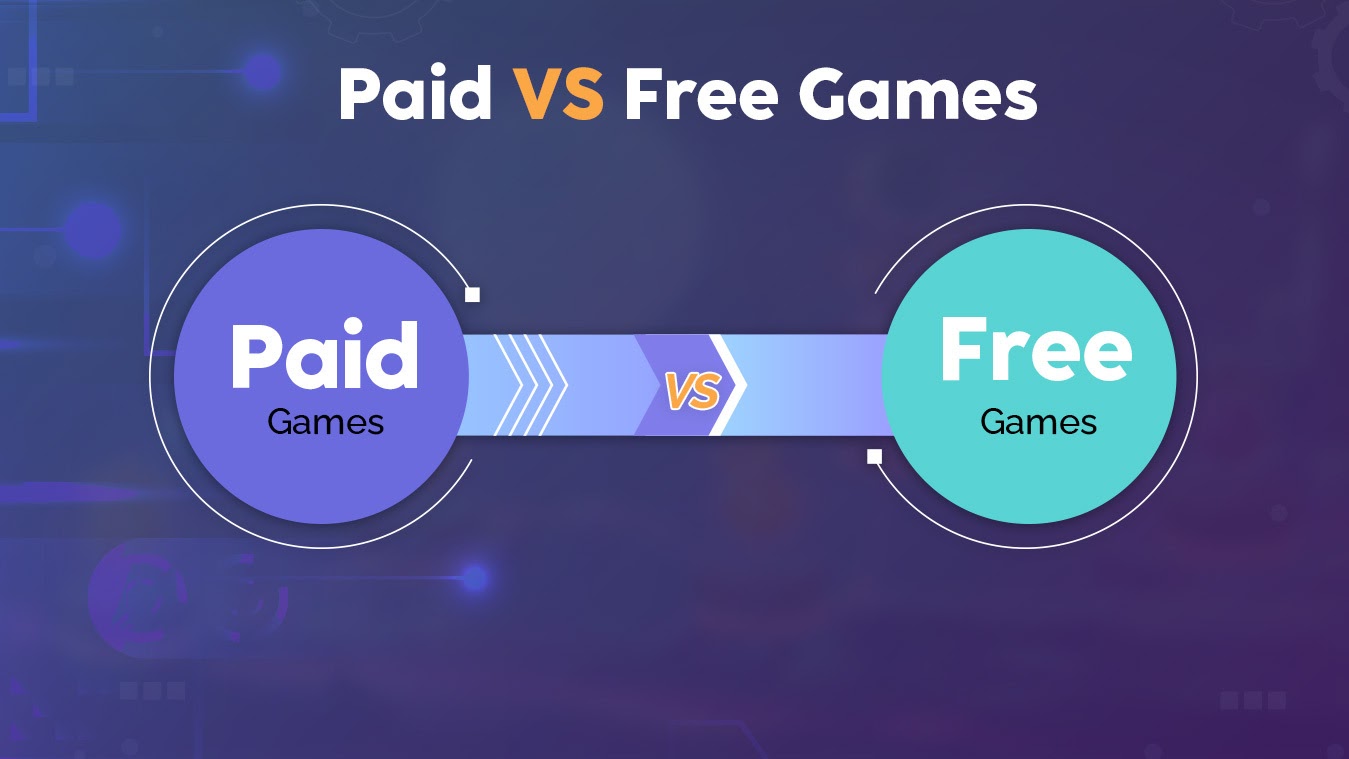 A paid game might be an attraction for you as a developer but it often does not attract users unless it is unique and highly interactive. On the other hand, a free game has the ability to attract more users due to its free nature. But what about monetization?
Where paid games/apps bring in instant revenue, in contrast, the developers of free games/apps can easily earn via in-app advertising. An established free game /app with hundreds and thousands of users can add much to the revenue generated with the help of in-app advertising.
Let's explore the main mobile game monetization models that help game developers earn and survive in the cut-throat market.
What are the Mobile Game Monetization Models and Strategies for Revenue Gain?
Developers often mix monetization models to increase their average revenue. This method of developing a game monetization strategy helps game publishers to earn from various ends. In recent times following monetization models when used rightly, have done wonders for games/apps.
The paid model is one with which most of us are familiar. In this case, the users pay a fixed amount to the game developer while installing it. This means that a paid model can bring in instant revenue on each installation.
The subscription model has been widely used in music or video-based apps besides just gaming apps. The model enables users to subscribe for an ad-free experience to enhance the functionality of the game. The game in this case might be free for installation but subscriptions play a vital role in enhancing the experience. The game monetization strategy here is to take advantage of the need for a great user experience. By paying more, a user gets full access to the app and a smoother user experience by subscription.
Just as the subscription model is used to unlock a great user experience, in-app purchase is a well-planned monetization strategy. It encourages users to purchase features and characters within the game/app. The most common in-app purchases have been avatars, costumes, new characters, weapons/tools, and exclusive levels.
By being one of the convenient monetization models, the in-app advertising model has gained popularity over the years. A game developer or game publisher gets to easily generate incremental revenue by deploying advertisements in his/her game. The more users a game has, the more impressions, clicks, or installs it can generate while earning according to the set thresholds.
Hybrid Monetization Strategy
Game developers today, prefer creating a perfect mix of monetization strategies for their games to maximize profits. A game can only be rightly monetized by understanding its usage patterns and user preferences. Many monetization models thrive on user behavior with respect to game/app usage and its outcomes.
Keeping the facts in mind, one can play well through mobile game monetization. A game/app can have in-app purchases and in-app advertising running side by side to ensure greater profits. This way even if a user is not making an in-app purchase he or she is adding to your revenue by viewing ads running within your application. The hybrid monetization strategy for mobile games enables a developer to earn one way or another without affecting user retention.
Besides these, have a look at the 8 Monetization Strategies that Never Fail to boost in-app revenue.
Why Is In-App Advertising Important for Mobile Game Monetization?
With mobile game industry revenue, the user base touching the sky, and constantly booming, it is no mistake to consider in-app advertising for better game monetization.
According to App Store and Google Play mobile game downloads worldwide 2016-2020, in the second quarter of 2020 alone, a total of 15.2 billion mobile games were downloaded globally across both app stores. Out of these 12.4 billion games were downloaded from Google Play. These figures only show data relevant to the first quarter which has dramatically increased to date. The reason is crisp and clear, a large user audience can add up to a greater number of impressions and clicks to later add to the revenue.
In-App advertising is a highly effective game/app monetization strategy getting popular day by day due to its hassle-free nature. The choice of a feature-packed Ad Mediation Platform like ConsoliAds can land you with a great fill-rate with up to 90% and more, fetching ads from the Top Ad Networks.
On the other hand, for advertisers The Reasons to Choose Mobile In-App Advertising include its effective reach, higher click-through rate, and better targeting via Appographics. According to App Anne, people spend more than 4.2 hours on average while using mobile games/apps. Therefore, in-app advertising models easily gain reach adding value to gaining a better user base and click-through rate. Similarly, mobile game/app advertising platforms with Appographics can help you target just the right audience with the published ad set to ensure better incremental revenue.
Moreover, there are multiple other Benefits of App Monetization via In-App Advertising that make it a vital mobile game monetization model/strategy. These revolve around the convenience of being free for all, the creativity, and the ease to begin with, and the ability to combat ad blockers.
In-App Advertising strongly fights back monotony with creative ad formats available that are highly interactive and engaging. Multiple ad formats add up to make a refined mobile game monetization strategy.
What Ad Formats are used for In-app Advertising; Mobile Game Monetization?
Monetization and user experience are equally important, therefore, it can be really hard to choose the right ad format for in-app advertising. With time, ad formats have equally evolved similarly to monetization strategies. This evolution has been due to user behavioral changes that have been seen over time. Following ad formats are commonly used to monetize game/apps
Different Sizes and Types of Banner Ads are used for different game/app interfaces to ensure user retention. This ad format is the first that was ever used to monetize and there has been no end since then.   
Playable ads are chunks of game ads that motivate users to try playing it before installing the actual game. This has been a game changer for the game industry as this has helped them gain quality users.
Interstitial Ads also known as full-screen overlays, cover up a user's device screen to promote a brand or game/app while blocking the game's actual content.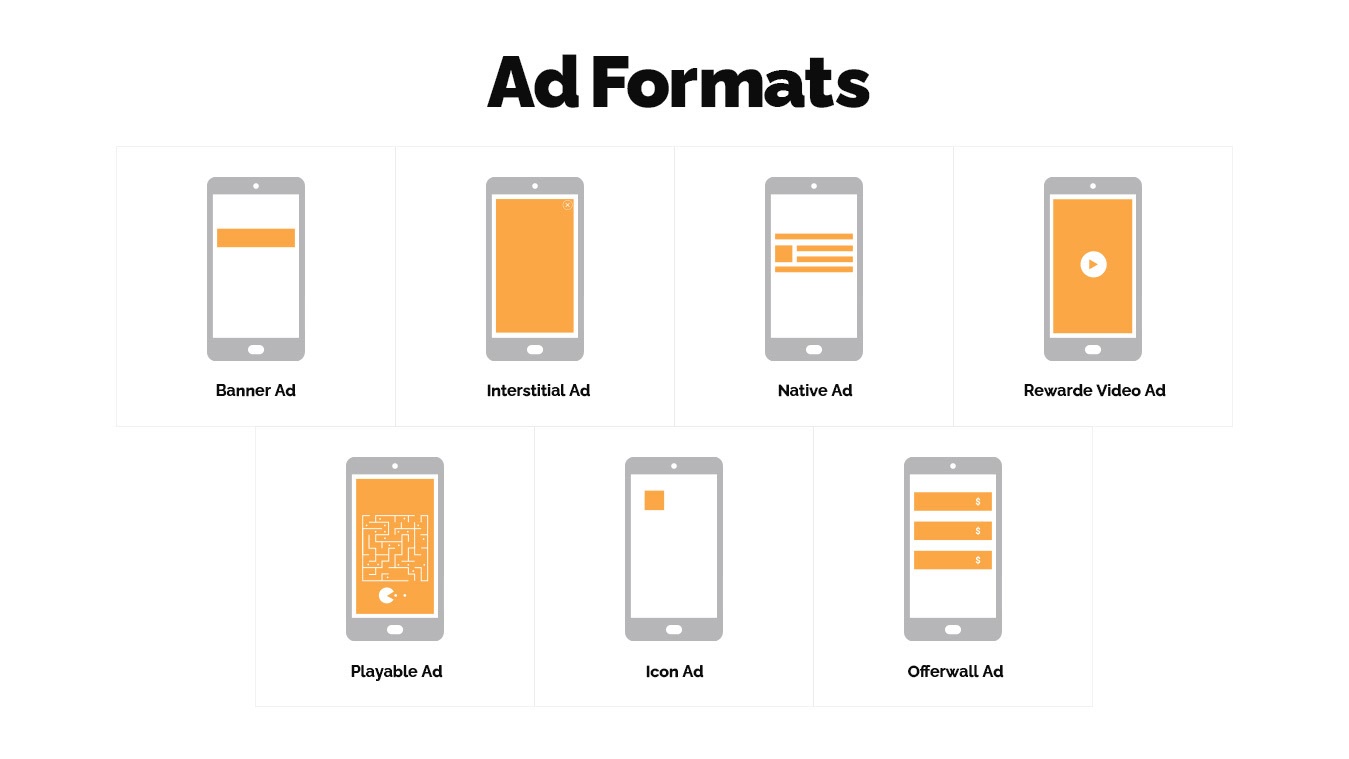 Native Ads are designed and integrated within the game/app interface to match its colour scheme and theme. These ads are non-intrusive and gain just the right amount of attention.
The Icon Ad Format by ConsoliAds has been doing wonders by being least intrusive in nature. A small icon essentially targets the right audience without messing up the game layout.  
The offer wall ads pop up on user screens providing users with an offer to avail by just a click. These ads are static, however, carry an active interactive button to avail the offer.
The rewarded video ad format directs users to a video, once a user opts to view it he or she gets in-app rewards such as a new life, a new costume etc.
So far we have been able to dig down the basics of game monetization and what part does in-app advertising play in generating incremental revenue. Let's now understand how in-app advertising is done for mobile game monetization.
How Does In-App Advertising for Game/ App Monetization Work?
The phenomena of in-app advertising work as per demand and supply mechanism. For this, an Ad Mediation Platform takes the responsibility to connect your application to various Ad Networks that bring in quality ads in designated slots to ensure an ideal fill rate. An ad mediation platform lets publishers manage, optimize and sell their inventory to the best Ad Networks in an auto-mediated fashion. Let's now dig deeper into what is an Ad Mediation Platform and An Ad Network. 
What is the Role of Ad Mediation Platform in Mobile Game Monetization?
An Ad Mediation Platform centrally allows your game/app to access multiple Ad Networks to fetch ads via the installation of SDK. Once a software development kit of any Ad Mediation Platform is installed and integrated within your game/app, it starts acting as a mediator.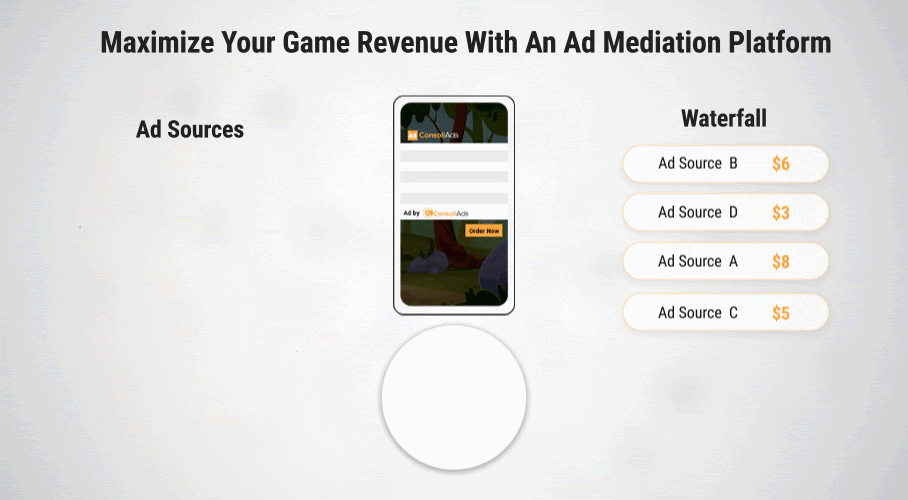 In other words, An Ad Mediation Platform bridges the gap between your game and the Ad Network. This is done by sending real-time ad requests and fetching back ads from the highest bidding Ad Network automatically. This process takes no more than a millisecond while the ads only run on scenes where you choose them to be with the help of the mediation platform.
By making the right choice for an Ad Mediation Platform, you can manage multiple ad networks in one place with just one SDK installed. Not just this, Ad Mediation Platforms like ConsoliAds provides you with a dynamic dashboard to track performance and leverage revenue generation all at once. Moreover, Ad Mediation Platforms let publishers control whom to sell their inventory and how. All this with an auto mediation feature allows an Ad Mediation Platform to ensure the best fill rate for greater eCPM.
In case you are wondering, Fill-Rate is calculated by dividing the total number of ad impressions that an app generates by the number of instances an app request is sent to an Ad Network.
Whereas, eCPM is effective cost per mile, the revenue generated per thousand impressions. Therefore, an Ad Mediation Platform needs to act swiftly as soon a call for an ad is generated.
What is eCPM?
eCPM – effective cost per mile, is how much a publisher earns per thousand impressions regardless of the buying model. The formula to calculate eCPM is: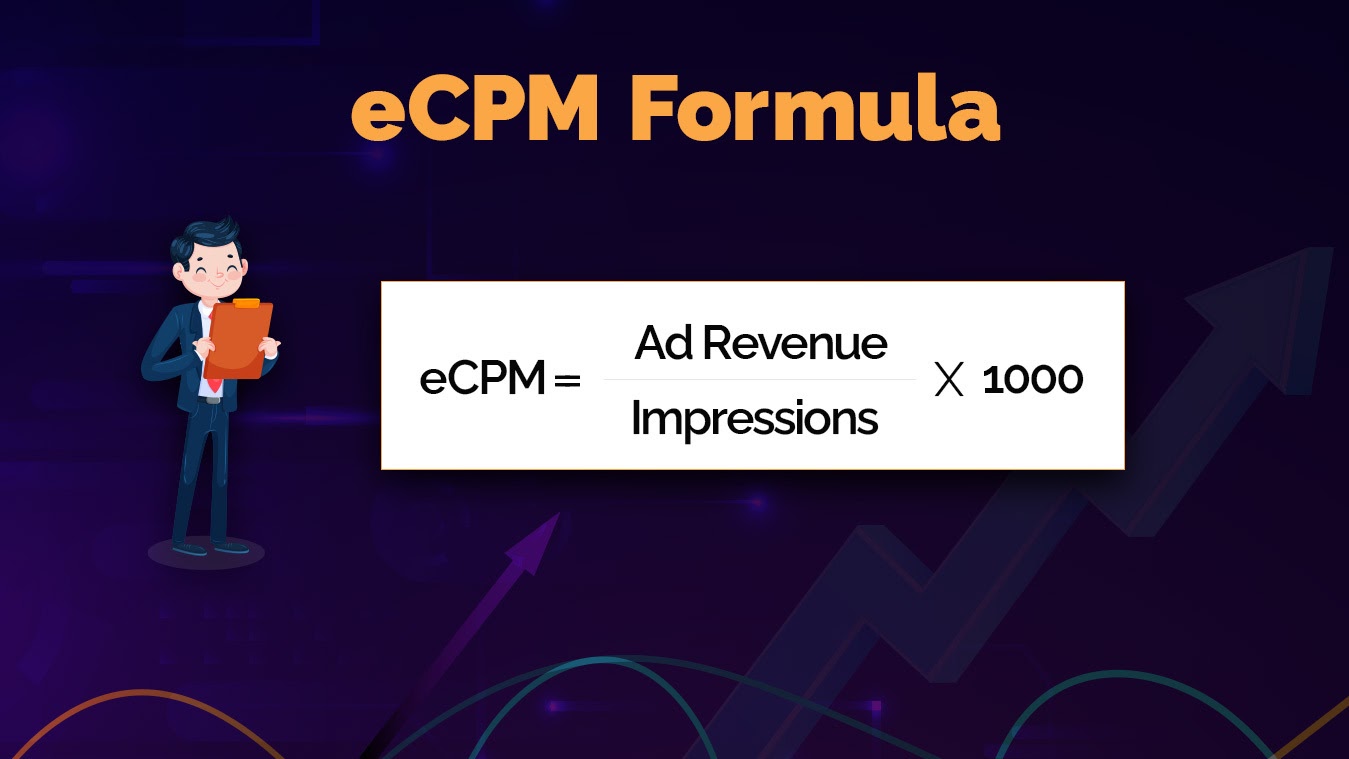 This method is used to calculate the overall revenue that your app makes within a certain period of time. If you have a greater eCPM, this means that your game/ app is doing great in terms of gaining revenue. If not, try changing and adding more slots/scenes to your game/app with the help of SDK installed earlier.
What is the Role of Ad Networks in Mobile Game Monetization?
Ad Networks efficiently maintain ad inventories and activate as a supply source as soon as an ad call is received as per demand. The process of sending the ad call is managed by the mediation platform, whereas, sending the right ad format as per demand is done by an Ad Network.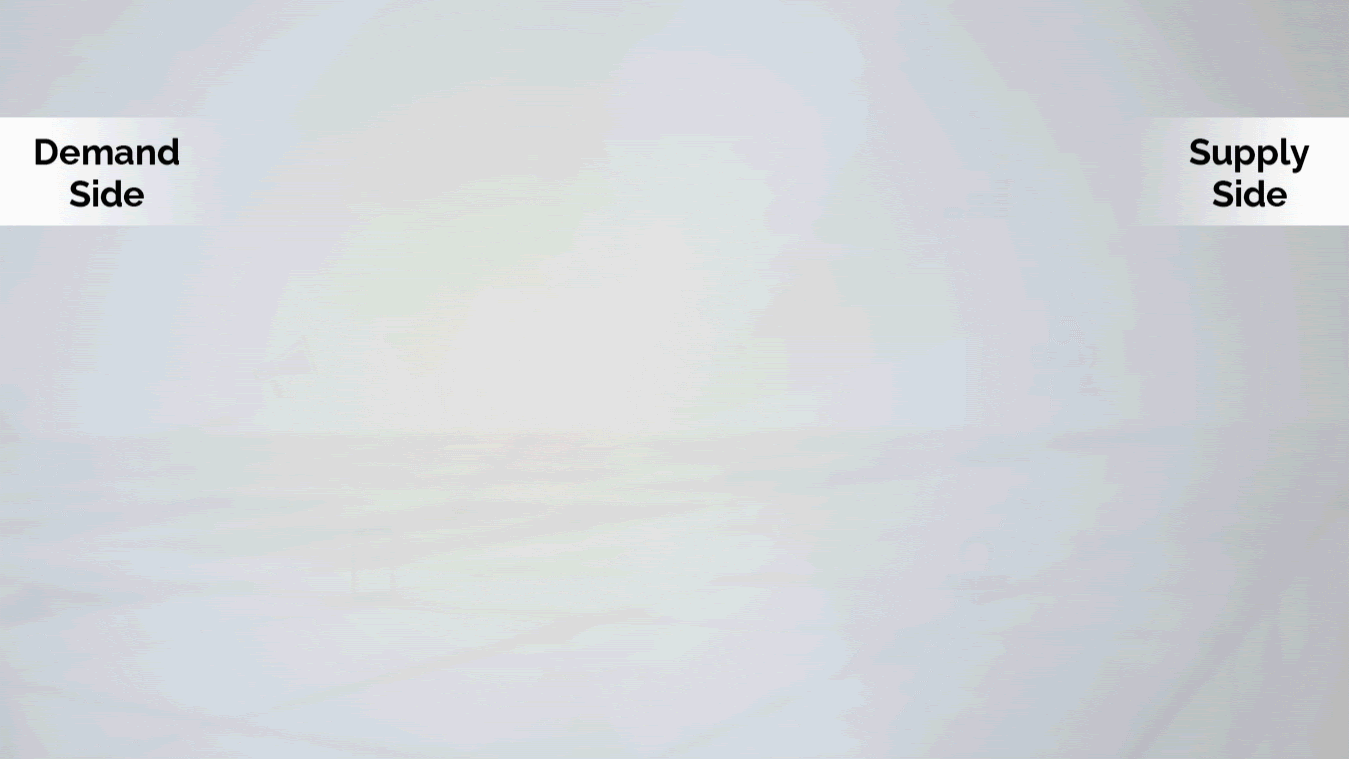 Ad Networks let advertisers find the perfect slot to advertise their ads. ConsoliAds as an Ad Network provides advertisers with a dynamic dashboard and options to target the perfect audience while using Appographics. Moreover, it opens you up to an inventory of over 1500+ mobile games/apps.
A good Ad Network must provide high LTV – lifetime value and engagement levels so that advertisers meet their set goals perfectly. Lifetime Value is a net profit prediction calculated with respect to the relationship between a product and consumer. In the case of in-app advertising, the ads count as products, whereas, the consumers are the number of impressions generated by users.
In-App Advertising seems like a great deal while planning game app monetization, but one can't just ignore the disadvantages that may lead a publisher in trouble. Let's figure out the other side of the picture.
What are the Pros and Cons of Using In-App Advertising for Game/App Monetization?
The picture might always look different once the coins are flipped, similar is the case with in-app advertising being used for mobile game monetization.
The list of Pros of In-app Advertising goes like this:
Due to the smartphone users' growing dependence on mobile games/apps in contrast to web browsing, a game publisher can easily acquire a greater user base. This means, more people using an app/game means more impressions on the ad placements throughout the app/game. Therefore, In-App advertising significantly opens you up to the world of additional revenue which is a significant boost to the primary income. As a publisher, one can conveniently integrate the SDK and choose ad placements for various ad formats to ensure how and when an ad is displayed to the user.
With such strong control via Ad Mediation Platforms and in-depth analytics associated with in-app advertising one just can't go wrong with increasing the ROI. The user interaction and behavior in terms of mobile game usage can help marketers to optimize advertising campaigns in an effective manner.
You must be impressed with the power of in-app advertising and its effect on revenue generation. However, other aspects such as the cons need equal attention.
The Cons of In-App Advertising for Monetization are:
Despite narrowing down the audience to target just the right users, game/ app users can often find ads absolutely irrelevant. This may result in a user reporting the ad or maybe the application itself perceiving that it is not genuine. Few ad types are considered highly intrusive in nature which can negatively affect the user experience. This certainly irritates the users, motivating them to stop using the app or to eventually delete it.
On the same end, applications with too many offers/ ads create confusion and make a user believe that this app is no good without availing them and is misleading. Despite the ad being a genuine product from a genuine brand, people hesitate while clicking in-app advertisements with the fear of downloading malware. This makes users feel anxious about ads that suddenly pop-up during their usage. Not just this, users hate it when they accidentally click an ad that downloads an unwanted application. Badly timed pop-up ads can make it really easy for people to accidentally click them. This makes the user experience a whole lot annoying and not just this, such clicks also affect the insights and revenue.
To up your monetization game, also understand the Deadly Sins of Game Monetization and how to avoid them. All these strategies will help you run a swift campaign while making the most out of it.
Conclusion 
All these aspects of mobile game monetization have added much value to the industry, the advertisers, and publishers. As an app publisher, it is important for you to understand the dynamics of monetization and how they can elevate your earnings without much hassle.
ConsoliAds lets your game thrive in the market by providing you with just the right set of features to monetize and enjoy revenue. With ConsoliAds, you get to enjoy 
20% In-App Incremental Revenue·
90% + Fill Rate from Top Ad Networks
In-depth Insights  through a comprehensive dashboard
Ad Fraud Prevention
And much more…
Want to know more about Mobile Game Monetization? Ad Mediation? In-App Advertising or Ad Networks? Get in Touch Now!