2017 was the year when it was proclaimed that digital ad spending had finally beaten TV ads. To be more precise, digital ad spending reached $209 billion worldwide. While TV ads brought in relatively stagnant growth by reaching $178 billion, according to research by Magna in 2017.
As of now, the ad spending on mobile apps has drastically affected every other digital channel and an estimated $19.5 billion app revenue was calculated during the first quarter of 2019 alone.
As compared to mobile web ads, in-app advertising has become the fastest growing form of mobile advertising in the market. Notably, mobile apps are quickly becoming the most popular medium of digital advertising for consumers.
The transparency, time-saving and advanced efficiency of the advertising process in mobile apps helps advertisers get the most value out of their ad campaigns. In this blog, we will try to explore the major factors which make in-app advertising more effective than other digital means.
Mobile In-App Advertising – 3 Reasons Why?

1. Effective Reach
It is an undeniable fact that people around the globe are spending more and more of their time on their phones using a variety of mobile apps. As per the latest statistics from e-Marketer, the average daily time spent on mobile phones has increased to 215 minutes in 2018, up 11 minutes from the previous year.
Moreover, it was also noted that 89% of the time spent on a smartphone is fixed for using mobile apps, and only 11% is spent on the mobile web. This indicates the credible reach of mobile apps for advertising brands in an effective manner.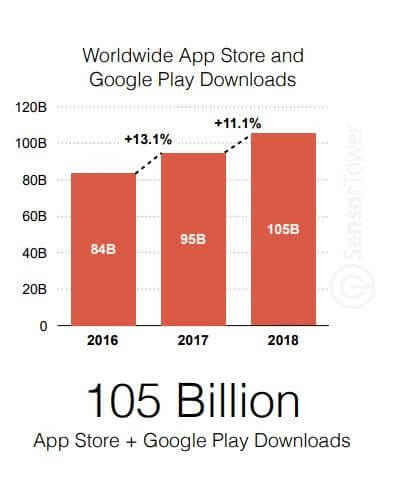 According to stats by App Annie, the total number of app downloads last year was around 194 billion. And considering the figures of 2.6 million Android apps and 2.2 million iOS apps as per August 2019. The total number of app downloads would have doubled in 2019.
2. Higher Click-Through Rates
As we have discussed earlier that the engagement of users in various activities that run inside the app is way higher than mobile web. So, there are more chances that users will connect with the content of the ad better. In addition, users invest more time in mobile app as compared to mobile web where the bounce rate is higher. Hence, the higher conversion comes with the higher engagement of the mobile app.
As you might be aware that Click-Through Rate (CTR) tells how often users who see your ad end up clicking it. As per the research by Medialets. The CTR for apps is 0.58% whereas the mobile web only has a 0.23% click-through rate. Considering the relativity of CTR with conversions and leads. This is the major reason brands need to targeting users' in mobile apps.
3. In-App Advertising via Appographics
There are a handful of ad targeting methods used by various organizations these days. Some companies rely on 'contextual targeting' where ads are usually shown according to the content present on the web page. While other businesses show ads based on the users' behavior and browsing activity on different websites.
Well, mobile app advertising networks like ConsoliAds use a slightly different and effective strategy called 'Appographic Targeting'. In this technique, on the basis of their interests, the users could be the target. For instance, a mobile shooting game can advertise to users who play action games quite frequently. This type of targeting works exceptionally well for mobile apps like games, social, travel, e-commerce, and various other categories.
Moreover, Appographic targeting creates micro-categories based on specific consumer behavior to target users more effectively. Simultaneously, using demographic targeting, ad networks organize users based on Geo-location, device type, and content.
Using combinations of aforementioned targeting methods. Mobile ad networks enable advertisers to get a considerable increase in Return on Advertising Spend (ROAS).
October 4, 2019
By:Asad Mahmood
Categories:Uncategorized
no comments
-->