It is 2022 and people are still struggling to find the best mobile ad network that takes care of all the mobile advertising needs. The global mobile advertising spend is expected to hit a massive 336 billion US dollars out of which mobile app install advertising is expected to be 118.4 billion US dollars. Mobile in-app advertising is surely growing and has evolved into something big over the years. It is surely the human dependency on smartphones that has added fuel to the fire making the mobile in-app advertising industry progress.
Today, 83.96% of the world population owns a smartphone which translates into 6.648 billion. The iOS App Store offers over 1.85 million mobile apps, whereas, the Google Play Store offers over 2.56 million for download. Besides, multiple other app stores and galleries offer thousands of other apps for download. This determines to what extent an advertiser can advertise by using the power of in-app advertising. All these apps can equally work as a marketing channel for many advertisers around the globe.
However, brands, game and app owners need one complete solution to streamline their mobile advertising activities today. After all, a brand cannot truly grow by targeting the world population unless it is meant to do so. A mobile ad network needs to be powerful, swift, efficient, transparent and dynamic. But do we have a single best mobile ad network that works around the clock giving the best targeting options, creative campaigns, unique ad formats and campaign optimization that leads to an ideal ROAS? The answer is yes!
The Power of ConsoliAds Marketplace to Acquire, Convert and Upsell Nonstop
ConsoliAds Marketplace is now bigger and better than ever! A single mobile ad network that caters to all in-app advertising needs with just a few clicks. ConsoliAds Marketplace, now powered by AI – artificial intelligence and ML – machine learning, performs as a top mobile ad network. This feature-packed mobile ad network has the power to bring out greater ROAS no matter what the advertising objectives are.
Advertisers from around the world count on ConsoliAds Marketplace for its diverse inventory of mobile apps, exemplary performance and transparency. It just takes a few easy steps for an advertiser to set up a campaign no matter what the objective. From gauging and directing traffic, increasing brand awareness and reach, getting more installs and conversions, ConsoliAds Marketplace lets you do it all. An easy to use interface that makes campaign set up and optimization smooth, error-free and convenient.
Advertisers can enjoy campaigns set up in just four simple steps!
Set your goal (Awareness/Traffic/Installs and Conversions or Custom Goal)
Select the best audience targeting with multiple available options using what we call 'Appographics'
Upload the Ad creatives (Image or Video)
Set a campaign budget and bid amount, and it's done!
All these dynamic campaigns offered by ConsoliAds Marketplace determine the payment threshold based on the type of conversions. Here is how the advertisers get charged based on their campaign objectives:
Traffic – CPC (Cost per Click) – When the campaign is designed to gauge traffic and route it to a specific webpage or in-app page.
Awareness and Reach – CPM (Cost per Mile) – As the name suggests, the success of this campaign depends on the number of ad impressions.
Promotion – CPI (Cost per Install) – The promotion campaign is designed to get more instant installs, interactions, registrations etc.
Custom – Nothing pre-defined, set all the goals and costing type manually
You must be already thinking about Appographics, what it is and what it has to do with in-app advertising?
What Is Appographics? What Does It Have To Do With In-App Advertising?
Appographics by ConsoliAds Marketplace is the future of in-app advertising targeting! An AI and ML backed mechanism that lets advertisers target an audience based on demographics, psychographics and their behaviours. With Appographics targeting advertisers get to filter out their clan from across the globe by choosing:
Age
Device Type
Location
OS Platform
User Profiles (Affluent, Value Seekers or Bargain Hunters)
Interests and Behaviors
ConsoliAds Marketplace does not work with third-party data making the in-app advertising process hassle-free. This means that the platform performs incredibly well without any hurdles or dependency on external data. Where Google does not provide a hint of Apple associated data and vice versa, ConsoliAds Marketplace leverages in-app advertising with data from across digital verticals. Nonetheless, Appographics is the future of error-free in-app advertising.
Creative In-App Advertising Campaigns and Upselling Ad Formats
ConsoliAds Marketplace truly understands the present-day needs of products, brands, apps and service providers who want to advertise to the mobile audience. Thus, this top ad network offers a range of in-app advertising campaigns that fits the advertiser's goals and needs. ConsoliAds Marketplace currently supports four dynamic in-app advertising campaigns that include:
The network advertising campaign lets advertisers run ads within a diverse inventory of thousands of mobile apps around the globe.
The cross-promotion campaign lets advertisers, who have multiple mobile apps, promote one app into their other apps to acquire a similar user base.
The in-app purchase campaign enables advertisers and app publishers to promote offers and in-app items that lead to a successful purchase.
The in-app feature campaign enables advertisers and app publishers to promote a feature of an app within the same app as an ad.
All these campaigns support over six upselling ad formats that engage and interact with the highly segmented target audience to convert them. ConsoliAds Marketplace believes in innovation and the development of quality non-intrusive ad formats and brings the best to the table. All ad formats by ConsoliAds Marketplace are designed to bring greater ROAS and results i.e. conversions, installs, registrations etc.
ConsoliAds Marketplace fosters the success of in-app advertising campaigns by opening access to Banner Ads, Icon Ads, Interstitial Ads, Native Ads, Video/Rewarded Video Ads and Immersive AdsTM.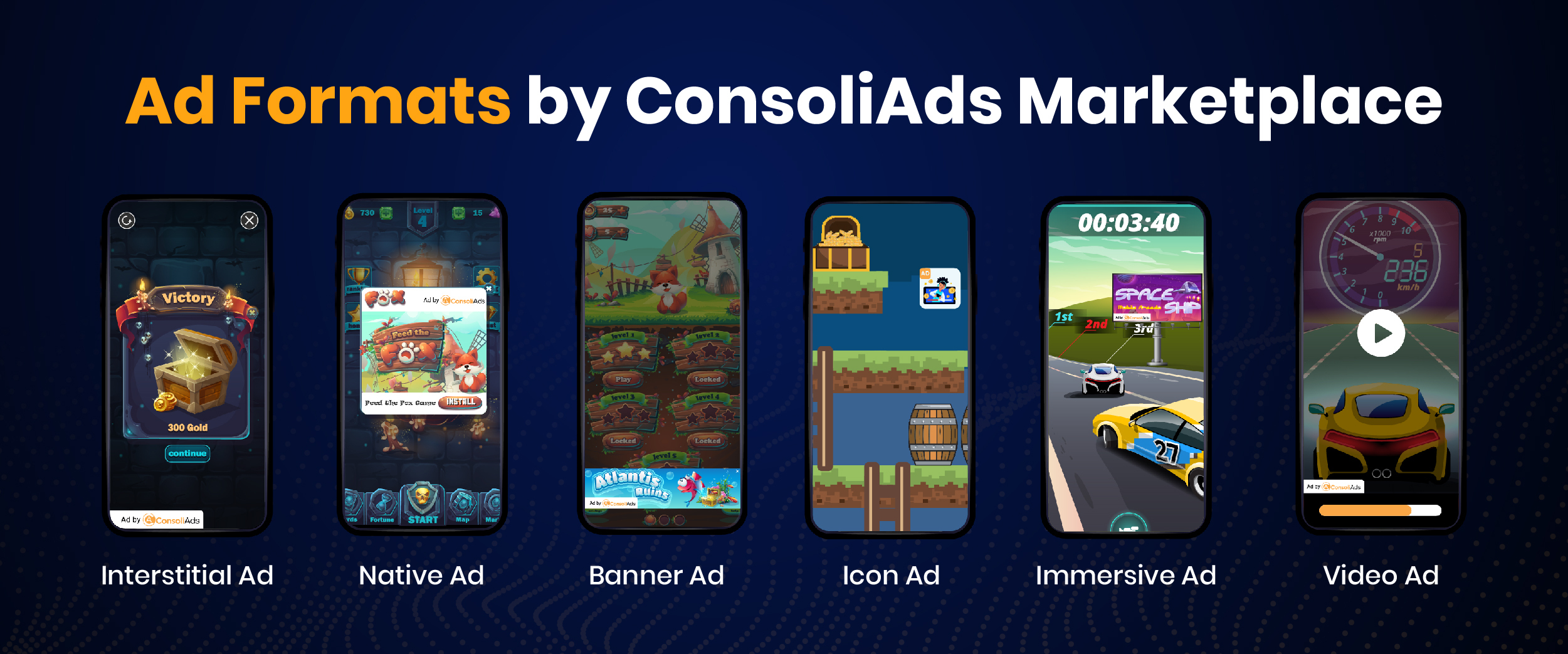 Mobile advertisers can use all these ad formats to create a fine mix for better campaign performance and the best thing about ConsoliAds Marketplace? It provides 24/7 expert support that assists you while choosing the perfect ad formats for your advertising goals.
Besides all ad formats, Immersive AdsTM (BETA) by ConsoliAds is making waves around the industry, but why? Here is the secret behind it…
Immersive AdsTM (BETA) by ConsoliAds Marketplace is the door to VR and Metaverse!
Immersive AdsTM (BETA) is one of a kind ad format, innovatively designed and developed in-house by ConsoliAds. This ad has all the power to seamlessly blend into the 2D and 3D mobile game environment without impacting the gameplay. Advertisers require no hard pieces of coding to place these ads into their games, just one single drag and drop, and they are sorted!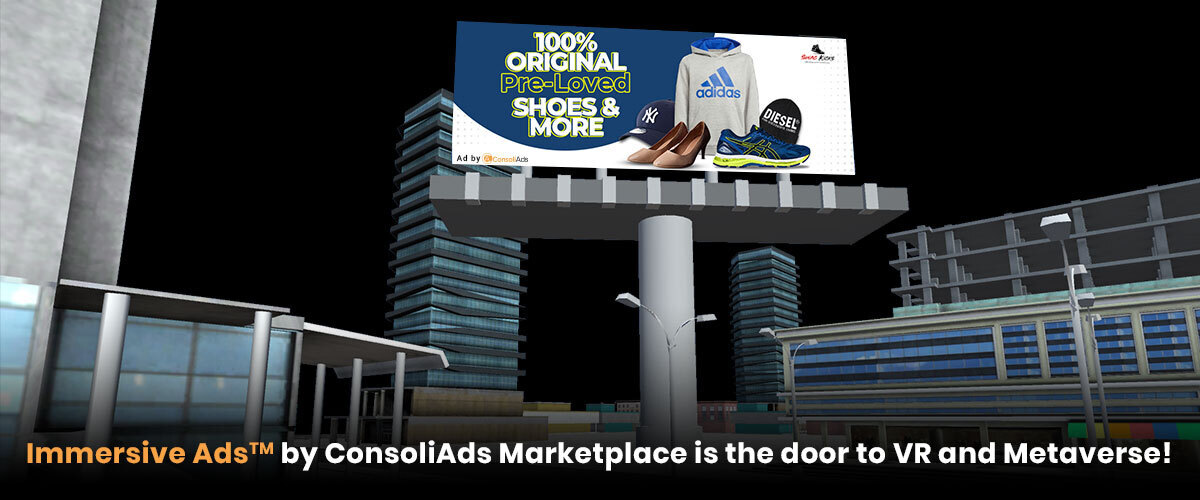 But what is so big about the Immersive AdsTM (BETA)? It is the adaptive nature and the potential to fit any in-game object for seamless promotion. This ad is being readily used by top advertisers from across the globe to replicate real-life out of home advertising campaigns into the digital space. Then may it be the Metaverse, an exciting VR game or 2D/3D mobile game, the Immersive AdsTM(BETA) takes your advertising and marketing campaigns 360°!
Furthermore, ConsoliAds Marketplace does not fail to impress the advertisers and the in-app advertising market by providing complete transparency of campaign performance, insights and revenue. The platform displays a complete comprehensive breakdown of analytics and insights like no other mobile ad network.
Granular Analytics and Convenient Campaign Optimization
ConsoliAds Marketplace has an acclaimed market presence due to the highest transparency and granular analytics. Advertisers don't just get to evaluate their advertising outcomes but can also optimize campaigns in real-time. The mobile ad network has a comprehensive analytics display that helps the users easily understand their campaign success and optimize it.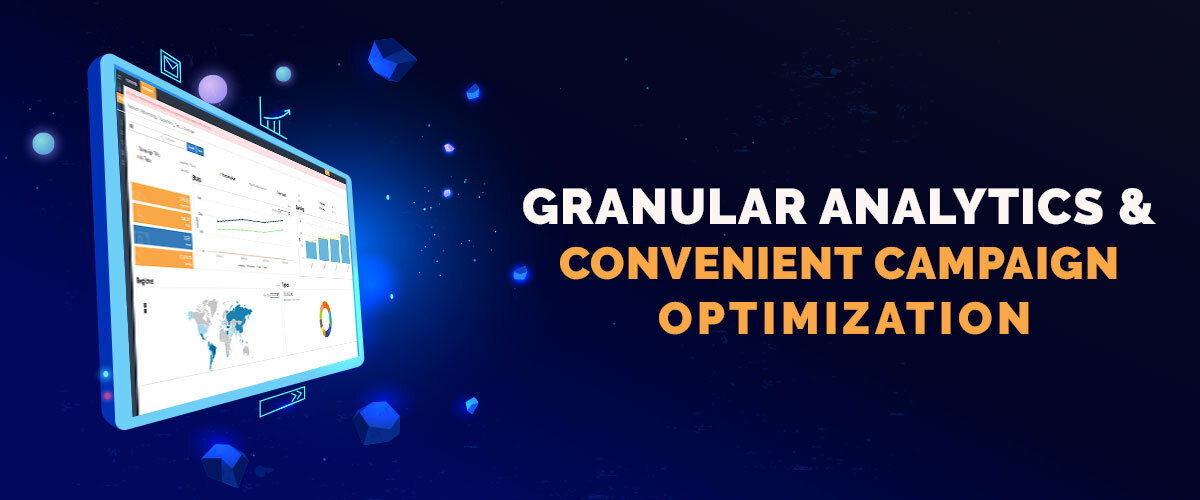 Once the campaigns are active and running, the dashboard starts displaying analytics in real-time. Advertisers get to evaluate the ad requests, impressions, show rate, click-through rate, installs, install rate, conversions, spending, cost per conversion, dates and platforms against the ad type used. Moreover, the dashboard displays campaign performance showing all of the selected targeting options i.e. age, location, profile, device type, OS platform etc… All these stats enable an advertiser to reevaluate the campaign performance and take appropriate measures to make it better.
ConsoliAds Marketplace gives complete in-app advertising control in the hands of the advertiser. From campaign set up to its optimization, advertisers have it all at their fingertips!
Advertisers can at any time change and modify the campaign artwork and set bidding thresholds as per need. ConsoliAds Marketplace implements all the changes swiftly and efficiently giving the latest results on the analytics dashboard. This way advertisers enjoy complete control and transparency while gaining the perfect ROAS from their campaigns.
Direct Deal for Ultimate Freedom
With complete control in the hands of the advertiser and transparency assured by ConsoliAds Marketplace, the platform does not restrict any user from making a direct deal. App publishers can easily make an independent deal with advertisers and run their campaigns just as they prefer.
A Robust Platform to Facilitate Advertising Agencies
Not just this, the platform is great for advertising agencies who want to expand their business by offering in-app advertising into a diverse inventory. Therefore, ConsoliAds Marketplace caters to all modern-day needs of advertisers and advertising agencies.
ConsoliAds Marketplace Is A One-Stop In-App Advertising Solution For All!
Whether a brand, app publisher, game publisher or an established advertising agency, ConsoliAds Marketplace has just the perfect in-app advertising solution for you! A complete mobile ad network that performs exceptionally with the power of artificial intelligence and machine learning. The diverse inventory adds much more value to the potential of ConsoliAds Marketplace.
Unlock and experience a new dimension of in-app advertising with advanced-level targeting, creative campaigns, upselling ad formats, campaign optimization, granular analytics and much more. Try out now!
February 2, 2022
By:Asad Mahmood
Categories:Uncategorized
no comments
-->