2022 is going to be all about the digital revolution, advanced in-app advertising with innovative mobile marketing practices. This is the year when over 50% of mobile advertising will take over web advertising causing a dramatic shift in user behaviour. Currently, more than 59% of mobile users are comfortable with relevant ads than television viewers. This reveals how normal in-app ads have become and are constantly shaping consumer behaviours.
In-app advertising is a smartphone-dependent strategy that is being used to reach out to the masses. Today, smartphone users have surpassed 6 billion globally and are expected to hit over 6.5 billion by the end of 2022. As per other researches, over 25% of Millennials actively use smartphones and make shopping decisions. These stats clearly show how the world is changing and people are becoming highly dependent on smartphones. From using mobile apps for food deliveries, finding medical assistance to playing games for leisure, people are actively using smartphones.
Keeping in mind how the world is adapting to the digital changes, in-app advertising has grown massively. Over 51% of advertisers and marketers today seek opportunities to promote brands, services, apps and games into mobile phones. The digital mobile ad spending is expected to bloom up to $396 billion in 2022 opening multiple opportunities for publishers to monetize. As the digital landscape evolves in the mobile in-app market, both advertisers and publishers will gain benefit. This article will walk you through all the developments that are expected in the in-app advertising industry in 2022. But let's begin with the basics first…
What is In-App Advertising?
In-app advertising is all about running ads into apps whether for advertising or monetization. Where advertisers use this to promote and gauge conversions, publishers use in-app advertising to monetize their apps. Either way, ad serving is what plays a major role.
In-app advertising facilitates both parties in one way or another. The publisher acts like the demand side, whereas the advertiser acts as a supplier. However, the process requires a moderator to make things run smoothly. In this case, an ad network plays a key role to enable in-app advertising. The ad network performance depends on how swiftly it manages both sides and enables ad serving. So how does in-app advertising work? This is what it's all about…
How Does In-App Advertising Work?
In-app advertising for monetization can be done by integrating an Ad Network's SDK. In this case, mobile advertising networks offering mediation are most preferred. But why?
All best mobile ad networks offer mediation which means that they act as an ad mediation platform. This is when a mobile advertising network connects a mobile app to the highest paying ad networks that bid for an available ad slot. By doing so, only the best paying ad network gets to serve an ad enabling greater revenues for the publisher. In another situation, an ad network if not offering mediation can itself serve ads within an available space. In both cases, an ad request is generated from the publisher's end that is answered by the ad network with a relevant ad from the advertisers.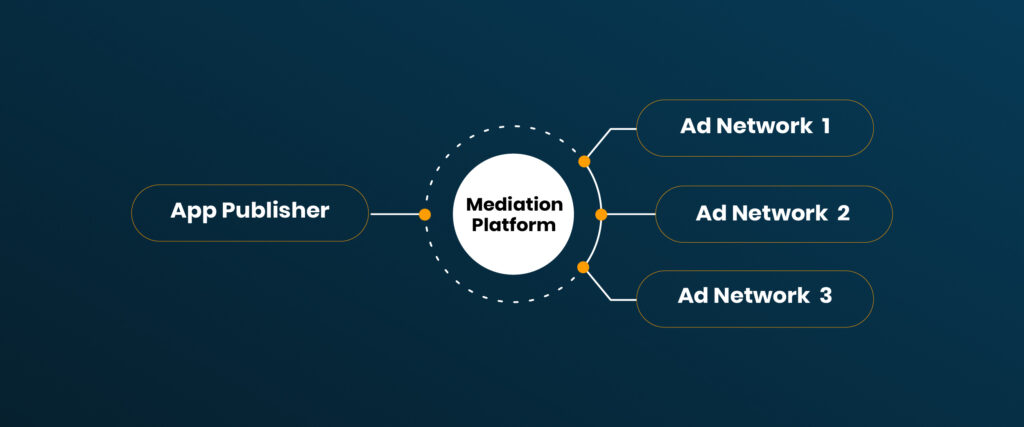 To promote using in-app advertising, an advertiser needs no integration. They can simply partner up with an ad network, set up desired campaigns and gain ROI as per performance. The ad request cycle, however, remains the same, while keeping the advertiser at the supply end.
Web Advertising VS In-App Advertising. What is the future?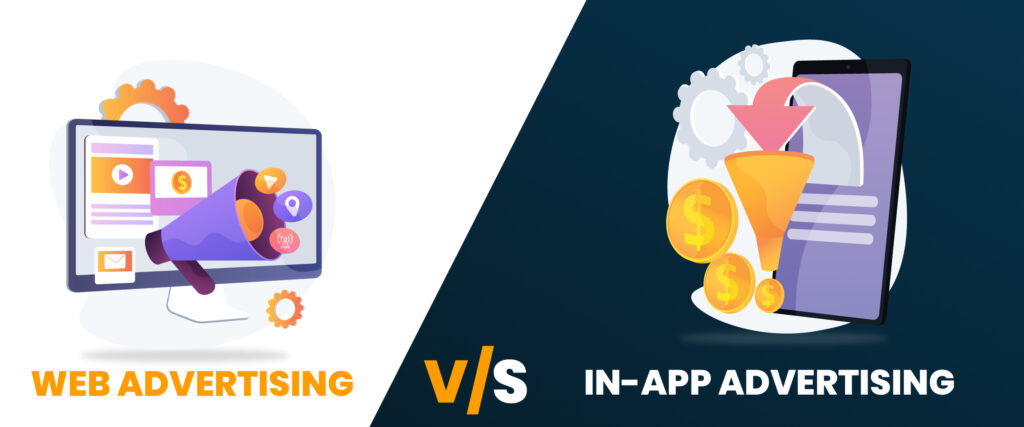 Web advertising is solely based on cookies that are fetched during every session on a web browser. These are saved to provide optimal user experience and display settings according to a user's preference. However, deep down in the line, cookies are what empowers web advertising by making ads more relevant. Ads on the website are served based on the web browsing patterns of a user.
Today, multiple web adblockers exist that successfully block ads for users to enjoy a seamless experience. Adding to this, web advertising works based on third party data. Without a web browser's data, web advertising might not fulfil the cause. Users today spend 52 minutes while browsing the internet via a web browser on average. In contrast, mobile app usage exceeds 3 hours 14 minutes on average giving it far more power.
But the power does not just come with user interactivity, it is the ad target accuracy that makes things work. In-app advertising works based on device IDs. It is this ID and geolocation that makes ad serving accurate. This means no third-party data is required to make in-app advertising work efficiently. In addition, the digital space has not yet evolved to develop ad blockers for in-app advertising. Thus, in-app advertising still has years to excel despite compromising policies such as ATT or IDFA.
The industry trends reveal multiple advancements in the field of in-app advertising over the years. From digital advancements to mobile ad formats, much is expected to change in 2022. Here is what you need to hold on to…
In-App Advertising Trends for 2022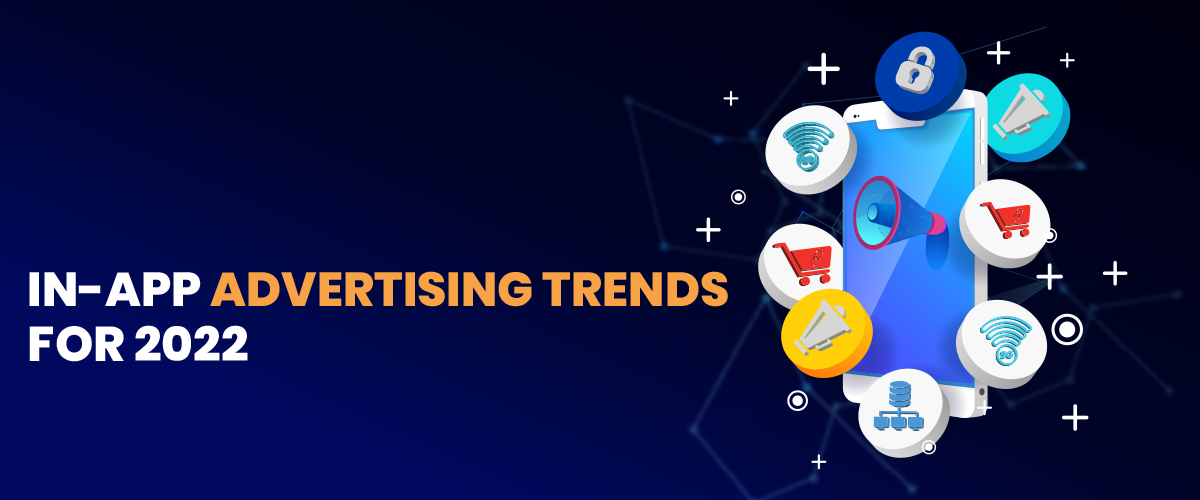 2022 is expected to bring great innovations to the table. The year is all about bigger and better shopping experiences from the comfort of your homes. In-app advertising is evolving and here is what you need to stay updated with…
Privacy Is Going To Rule!
The after-effects of Apple's ATT and SKAdNetwork will shape the in-app industry in 2022. No third parties will now be involved in enabling in-app advertising. Rather, first-party data will bloom. This means that many top companies will focus on developing their networks for direct in-app advertising. But why will this become a trend? The reason is that privacy will rule!
Users will become more and more concerned about their privacy and will find ways to restrict data sharing with any third parties. This will motivate the users to choose privacy options that will affect in-app advertising.
The World Will See Better Data Infrastructures
With impactful changes in mobile digital privacy, the world is expected to see better data infrastructures and newer business models. Top mobile ad networks have started to develop in-app advertising solutions based on artificial intelligence and machine learning.
ConsoliAds Marketplace has now evolved out of the shell of a traditional ad network. Considering the modern needs of in-app advertising, ConsoliAds Marketplace delivers the best ROI with the help of AI and ML-based targeting. How does this work? This advanced ad network lets advertisers target audiences with Appographics – an amalgam of psychographics and demographics. The Appographics use consumer and user behaviours to precisely align the audience with the campaign goals. Moreover, ConsoliAds Marketplace innovates in-app advertising by offering over seven creative ad formats that convert seamlessly.
This is just one example, an evolution keeping in mind the present-day needs for in-app advertising. Many similar data infrastructures can be forecasted in 2022.
HD is the New Policy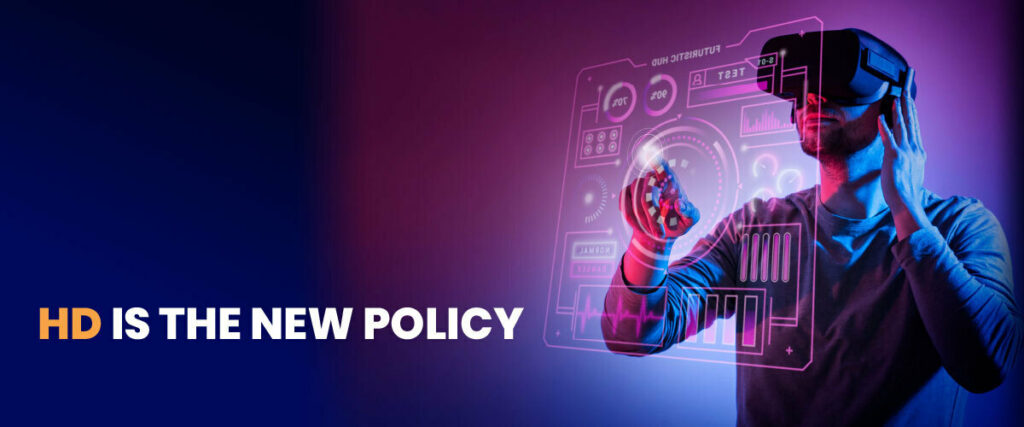 The digital ecosystem has majorly advanced with the assistance of digital infrastructure. Where the software evolved, hardware needs to be changed and vice versa. Today, as the world is going gaga over LTPO OLED display technology in smartphones followed by VR and Metaverse, HD is going to be a selling point. This means that ads now need to have a crisp vibrant HD outlook that attracts masses!
Besides, 2022 is going to be about high-definition images, videos and audio partnered up with highly engaging ad formats. As screens are becoming bigger and better, HD is what the world needs. You may agree to the fact that soon as the Metaverse starts taking shape, the screen will eventually vanish, leaving us with 3D virtual environments. This is when high-definition static, video and audio ads will rule.
5G Technology will make a Difference
The digital world with 5G internet technology will become swift. With this remarkable advancement becoming popular and commonly used, cloud-based advertising platforms will gain popularity. Similarly, IoT alongside 5G technology will make mobile advertising much more relevant. Sooner or later, the top mobile ad networks will start offering cloud-based and IoT solutions for in-app advertising.
In addition, 5G will change live streams for the world! As the world now is more involved in VR and Metaverse, virtual live streams will become common with 5G internet. This is when advertisers need to come up with creative ways to run live ads during such sessions.
Shoppable Links with Bump Offers
What do consumers want? A great shopping experience is the right answer! To make things smoother and conversions faster, shoppable links are the new thing in 2022. Don't worry, you won't get to see links here and there, it's the ads that will have product links embedded. This means a user will be able to add a product directly into his or her cart after clicking the ad with the product image. Sounds pretty convenient!
Moreover, bump offers will become a new norm in 2022! Only offers with hyper relevancy will be promoted to a set audience. Therefore, users will not get to see any in-app feature promotions or offers that they are not interested in.
Native and Immersive Advertising will Grow
Besides data privacy, the user experience will be a priority in 2022. Where in-app advertising is a need, it must not cost a negative user experience. To make things work, advertisers need to use highly non-intrusive ad formats for marketing.
To do so, native ads are going to be advertisers' best friends in 2022. These ads seamlessly blend into the app interface without halting the user experience. In the case of mobile games, advertisers will need a highly immersive ad format to market to a hyperactive audience.
Immersive AdsTM by ConsoliAds will make a difference this year. A perfect solution for games in the VR and Metaverse, the Immersive AdsTM are the future of advertising. These ads are great for replicating real-life out-of-home advertising campaigns into virtual environments. An immersive experience is all that the Metaverse and VR technology are about and so is the Immersive AdsTM.
Creative New Platforms and AR Shopping Experience
New socializing platforms backed with AR technology are expected to emerge in 2022. These platforms and multiple e-commerce apps are soon expected to market via AR technology. Users will be able to experience a real-life view of products before purchasing them. This will be a revolution in the consumer market.
Furthermore, socializing platforms will start embedded AR technology to offer an immersive experience. In recent times, Snapchat launched AR filters to provide reasons to engage and create. These filters are specially designed for advertisers to create engaging ads with objects that become part of the real scenes.
Ad Formats for Mobile In-App Advertising in 2022
The best ad formats for in app advertising in 2022 are without doubt the ones that elevate engagement and bring in greater ROI for advertisers. Multiple ad formats exist but not every ad fits every campaign goal. In order to make things work, advertisers need to pick just the right ad formats that serve the right purpose. Here are the ad formats that can leverage in-app advertising performance for advertisers…
Native Ads
These ads blend into the mobile app's interface causing no harm to the user experience. Native ads bring in over 50% better engagementTM super easy for advertisers to count on.
Icon Ads
Icon Ads work the best for cross-promoting apps and games within an established app that has a growing audience. This icon sized ad rests well within the app environment without making a difference in the usage.
Interstitials
Being it a full-screen ad, interstitials might seem intrusive, however, these convert really well. Interstitial ads bring in up to 2.5% CTR for advertisers to enjoy.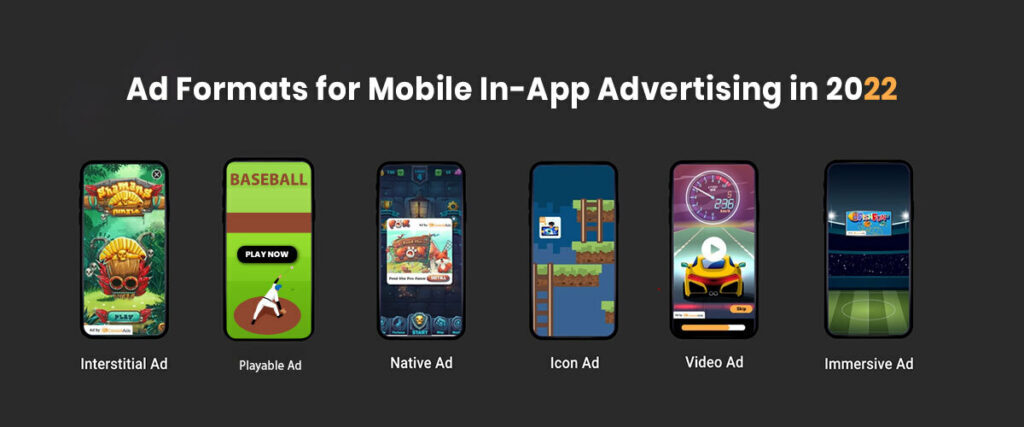 Immersive Ads
Immersive AdsTM by ConsoliAds is another great form of native ad that blends into the mobile game environment on any in-game object. ConsoliAds Marketplace has made Immersive AdsTM super easy to use for promotions as well as for monetization.
Video Ads
Video ads are another engaging ad format that brings in higher CTR for advertisers. These are a great opportunity for advertisers to give product demos in detail.
Playable Ads
Playable ads have the potential to convert hyperactive mobile gamers by providing them with a short playable demo. This way only highly interested mobile gamers download the game and add value to its user base.
Conclusion
Mobile advertising is thriving and so is in-app advertising. 2022 will open multiple opportunities for advertisers and marketers from around the globe. The innovation of the Metaverse, adaptations of AR, VR and 5G technology will give birth to tremendous digital developments. Let's step into 2022 with the hope to find bigger and better chances to market and evolve.
January 20, 2022
By:Asad Mahmood
Categories:Uncategorized
no comments
-->